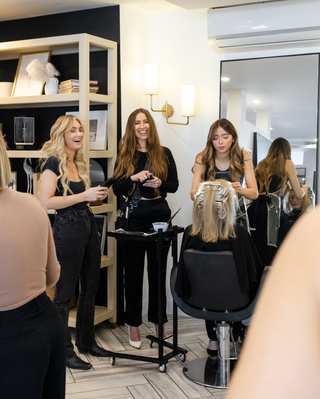 Careers
The Beverly has quickly become one of Alberta's top salons and continues to grow immensely. Our team is widely dynamic and incredibly resilient and we pride ourselves in the work we execute together as a team. We are inspired by our clients to continually elevate the entirety of the salon experience. Making our clients feel like their best selves is imperative at The Beverly, as our clients are our top priority.
At The Beverly, we are always looking for talented and passionate individuals to join our team. We seek creative and highly motivated people who thrive in a fast-paced, ever evolving environment. The mission we strive to carry out is to continually educate, evolve and break standards within the industry.
What We Offer:
Competitive pay
Autonomous scheduling
Work-life balance
Monthly education sessions with leaders in industry's
Retail commission
A supportive work environment that works to facilitate personal growth  
If you think you would be a great fit, email your cover letter and resume to gillian@thebeverly.ca as we would love to get to know you!